News
Holidays on the Hill and winter events
Nov 26, 2018
November 28 – December 29  Wednesdays through Saturdays 1-4 p.m. $10 per person
It's time that "ewe" come home for Holidays on the Hill to enjoy tours of the home of Akron's Founding Family! The Summit County Historical Society will open the doors of the Perkins Stone Mansion for day and evening tours, a Remember When sing-a-long and a chance to celebrate the winter solstice with a hauntingly good time.
With the sheep settled down for the winter at The Spicy Lamb Farm in the Cuyahoga Valley National Park, the focus on Mutton Hill is the 1837 stone house built for the family of Colonel Simon and Grace Perkins.  Over 100 years of Christmas' were celebrated here by the founders of Akron and Summit County with five generations occupying the home between 1837 and 1945 when the Society purchased the structure as their headquarters.
Early each November, Society volunteers work to set up the colors and decorations assigned to each room and the process of ornamenting occurs in preparation of a volunteer open house typically held the week before Thanksgiving. This year, the house is aglow with new trees donated by volunteers Jack and Mary Schifano and the table is set for an evening soiree on Wednesday, December 19th.  Tickets are $20 per person and include tour admission to see the lights at night, hors d'oeuvres and a holiday boost to kick up your spirits leading up to Christmas day.  The evening starts at 5 p.m. and runs through 8 p.m. with guests able to come and go as the holiday mood hits them.
Remember When on Thursday, December 20th and sing-a-long for "Reliving Christmas Through Music." This program is free for Society members and $10 for nonmembers. It will be held in the Society's carriage house starting at 6:30 p.m. Coffee, hot cocoa and cookies will be served.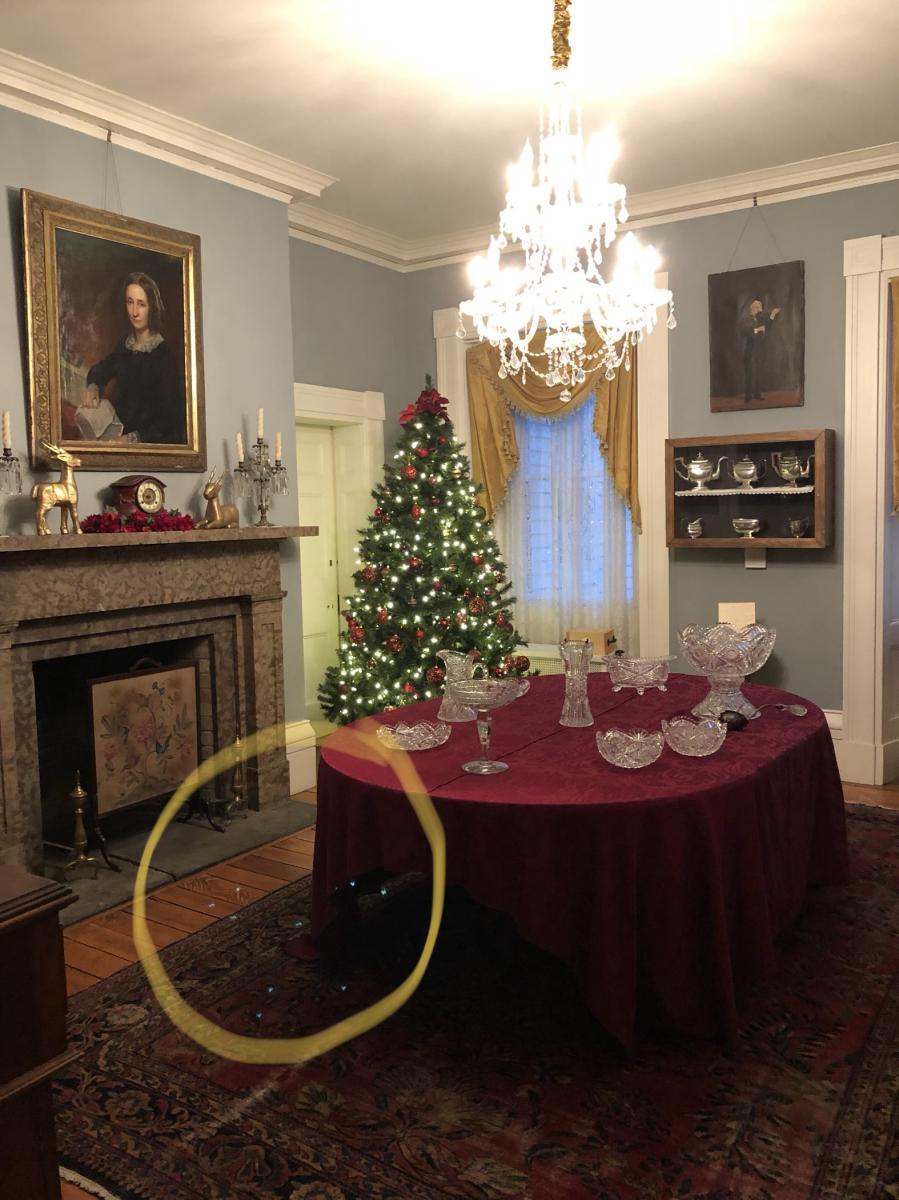 Circled green sparkles show the presence of Angel Rafael.
       Enjoy an eerie evening in the Perkins Stone Mansion for a Winter Solstice paranormal program on Friday, December 21nd from 5-9 p.m Tickets are $10 per person.  Guests will walk through the house with only the holiday lights lit as they hear stories of past other worldly experiences and possibly have one of their own.  Volunteers in each room will share information with some giving demonstrations using divining rods and pendulums.  Angel reader and psychic Laura Lyn will also be on site.  Reservations are required for 15 minute readings at $30 each.  While attendees do not need to sign up ahead of time for the Winter Solstice Spirits, they will need to call the Society office at 330.535.1120 to reserve their spot for a reading as they fill up quickly.
Complete your holiday shopping in the Mutton Hill Gift Shop to pick up unique items relating to sheep, Akron history and Victorian era mercantile.  Check out our Facebook page for special ticket deals, discounts and more!
Other Upcoming events:
December 9th  Community Open House from 1-3 p.m. free
January 17th  Remember When . . . Hands-On History "History of the Victorian Valentine"  6:30 p.m. Free for Society members, $10 per person
February 21st Remember When . . . Hands-On History "Lots of Locks: A Canal History"  6:30 p.m. Free for Society members, $10 per person