This program is available on our Facebook videos page as Akron Public Schools students have returned to school.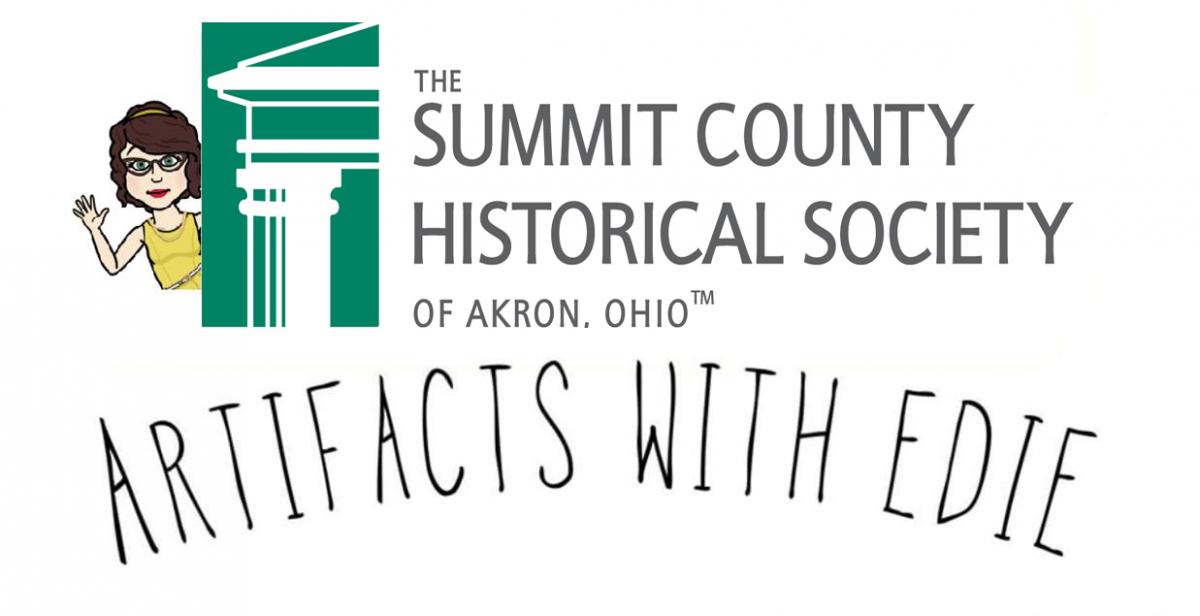 What is AWE - Artifacts with Edie?
Artifacts with Edie is a live show and tell online program. Each episode includes a historic theme, review questions and a featured "Artifact of the Day." Artifacts are from the collection of the Summit County Historical Society. You can see these featured artifacts on this page of the Society website.
How are the episodes produced?
Edie Steiner is the host, tech guru, editor and teacher. She found an app, SWITCHER, to allow the program to be broadcast online with the ability to highlight images and videos while she was talking. (Thank you to the Ohio History Fund - COVID 19 Emergency grant for paying for this app in 2020.) Then, she taught her husband how to use the app on her Iphone so he can tape the segments and show the images and videos per the script. Society president and & CEO Leianne Neff Heppner picks the featured "Artifact of the Day" and forwards the teleprompter. Leianne, Edie, Dave Gates and Buff Darkow have written the episode scripts.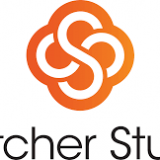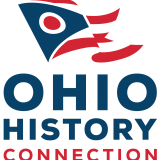 Did you know that Artifacts with Edie is an award winning show and it was featured in the Akron Beacon Journal and on FOX NEWS?
Artifacts with Edie was recognized by the Ohio Local History Alliance with an Outstanding Achievement Award during its October 2020 annual meeting. You can see our acceptance video here. Check out Tracy McCool's thoughts on the program when Fox featured Artifacts with Edie during Cleveland's Own Helping Cleveland's Own.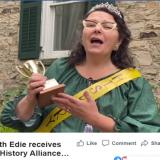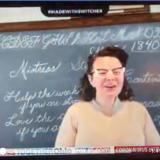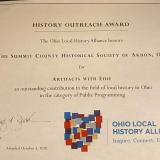 Who are the special guests?
Safety was extremely important as the program came together so Edie reached out to those she knew, her four border collies - Rudy, Lincoln, Luke & Owen. Miss Quinn sometimes joined them in their adventures including, "Are You Smarter Than a Border Collie?". These funny games were played each Friday during weeks 1-6. (Sadly, Miss Quinn went over the Rainbow Bridge in September 2020.)
Other guests have included local doctors, health professionals, teachers and principals via video.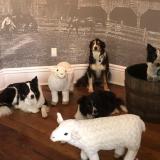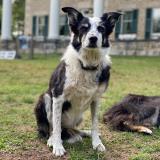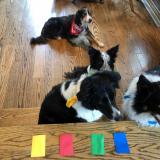 How did the project start?
Edie Steiner, a music therapist at Akron Public Schools (APS) and a Society volunteer, reached out to Leianne Neff Heppner, Society president & CEO, when COVID-19 required schools to transfer to remote learning. Through her years volunteering as the Society's shepherdess with four border collies and as a connector between APS and the Society, Edie recognized that the Society could possibly be a resource to assist APS students as they transitioned during this challenging time. She asked if Leianne and the Society would join her in making this opportunity a reality by assisting with historical content and artifact selection. For her part, Edie would figure out how to produce a broadcast to students where she would act as host using her skills as a teacher and music therapist.
The result became "Artifacts with Edie," a live show and tell program on Facebook. Together, they hosted the first six weeks Monday through Friday, with the assistance of a few Society staff members, Dave Gates and Mary Conley, and volunteers Buff Darkow and Gina McFarren. Safety was the biggest concern so the normal crew during taping was just Edie, Christopher and Leianne.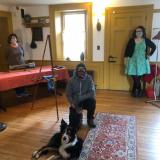 What happened with Artifacts with Edie once the 2019/2020 school year ended?
When school ended for the the summer, episodes were scheduled each Friday at 11:30 a.m. to follow the summer Farm Friday curriculum. The show is still on with new concepts each week on Friday at 11:30 a.m.. Edie and Christopher continue to be host and videographer and Leianne forwards the teleprompter. Denise Lundell, Renee Hennemann and Bruce Greer have also helped with artifact prep, research and photography.