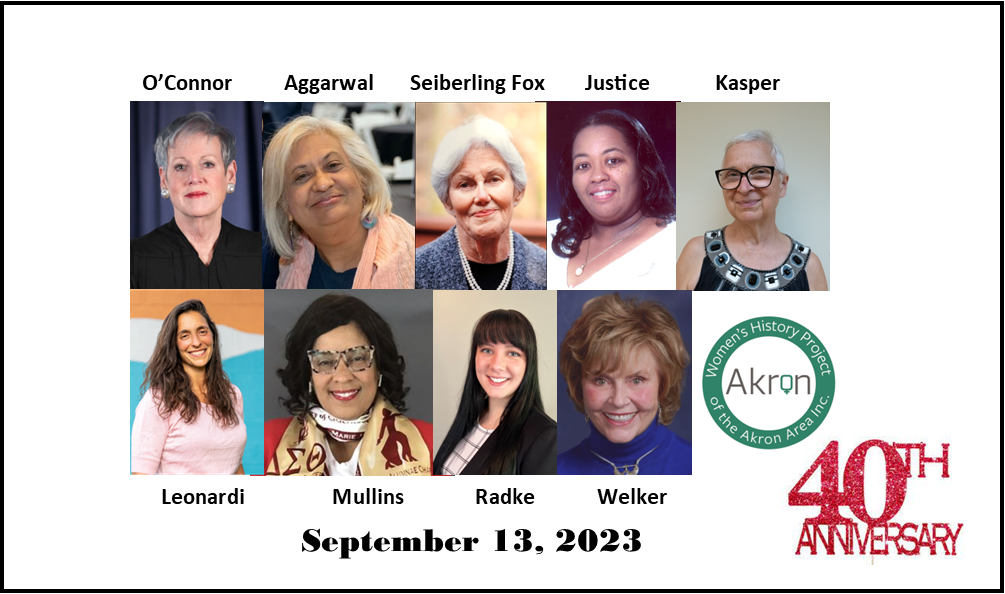 Join us on September 13th to celebrate the Women's History Project 40th Anniversary for th Women of the Year Awards. The Honorable Maureen O'Connor, retired Ohio Supreme Court Justice, will be the guest speaker. The event will be held at St. George Fellowship Centre, 3204 Ridgewood Rd, Fairlawn, OH, 44333. Tickets will be available for sale through September 6. 
Thank you to the following program donors: County Executive Shapiro and the County of Summit, - Presenting sponsors and Akron Community Foundation, Women's Empowerment sponsor!
2023 Woman of the Year Award Recipients
Integrity: Rita Aggarwal, Projecto Raices
Perseverance: Ethel Seiberling Fox, lifelong work on behalf of children at risk, the dying and physically vulnerable
Creativity: Brenda Justice, Gospel Meets Symphony, Power of a Dream Sisters Helping Sisters Ministries, Inc.
Innovation: Mary Ann Kasper, Socially Responsible Sweat Shop
Faith: Stephanie Leonardi, Summit Lake Build Corps., Artist in Summit Lake
Initiative: Towanda Mullins, Sojourner Truth Statue Committee, Delta Sigma Theta Sorority, League of Women Voters
Woman to Watch: Madison Radke, Village of St. Edwards, Green Chamber of Commerce
Posthumous: Rae Welker, Akron Symphony Choir, Gospel Meets Symphony, Guardian Ad Litem, Akron Children's Hospital Cuddler's Program and more.
Women's History Project Committee:
Theresa S. Beyerle, Ph.D., co-chair
Kathleen "Kitty" Endres, Ph.D., co-chair
Carrie Herman
Holli Mallak
Judy James
Karen Hrdlicka
Katy Miller
Rose Vance-Grom
Phyllis O'Connor
Willette Riley
Leianne Neff Heppner
**The Women's History Project of the Akron Area, Inc. became a program of the Summit County Historical  Society of Akron, OH in 2013.  The merger occurred during the 30th anniversary year for the Women's History Project and in anticipation of the Society's 90th anniversary in 2014.